Jewellers in Southall
Ramesh Jewellers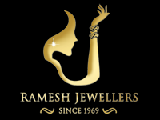 ---
We are the Leading 22ct Gold Jewellers of Traditional, Oriental, Ethnic and Contemporary Fashion. It is a Heriditary and Traditional Family Business Blessed with the Legacy and Backed by Versatile Experience from Generations.
Since Opening our first outlet in 1969. We have Expanded to two large luxurious outlets in the heart of the 22ct Market. Being one of the first 22ct Jewellers to become a Member of the National Association of Goldsmiths, we set a standard in providing the highest level of quality jewellery along with customer service.
Using our experience as manufacturers, wholesalers and Retailers we stock the widest range within the U.K. comprising of Gold Jewellery in solid, carved, chiselled, enamelled, embossed, studded and filigree designs conforming to the latest tastes and budgets of valued and overseas customers.