Islamic Event - Jaloos - Eid Milad-un-Nabi 2021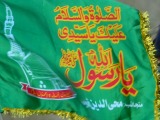 Date: Sun 17 Oct 2021

Time: 1:30 pm
Description:
Islamic Event - Urdu - The 35th annual procession/programme celebrating the birthday of the Prophet Muhammad (PBUH) in Southall.
This year the guest of honour is Hazrat Allama Peer Noor ul Arfeen Siddiqui (DBA),Sajjada Nasheen Darbar Nerian Sharif, Chariman of Noor TV, son of Great Islamic Shaykh Hazrat Pir Alauddin Siddiqui - DBA.
Other guest include Hazrat Allama Qari Khadim Hussain Chisti.
The procession will start from the Jamia mosque in Townsend Road after the Zohr prayers (1:30 pm). It will proceed along The Broadway, South Road, Beaconsfield Road and return to the Jamia mosque in Townsend Road.
Every one is cordially invited to attend
There was no procession last year due to covid restrictions.
Website:
Jamia Masjid - Southall
Location:
Jamia Masjid Islamic Centre,
103-105 Townsend Road,
Southall,
Middlesex,
UB1 1HE

If you have a local event, kindly share with the rest of Southall, by sending it to us via email.