Massive fine for food manufacturer
Sun 07 Aug 2011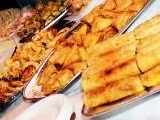 The manager of a food company that supplies 30,000 snacks a day to shops across London will have to pay out more than £16,000 for hygiene offences.
Parmpal Singh Brar, the manager responsible for the day to day running of Quality Foods, on the Witley Industrial Estate, Witley Gardens, Southall, appeared in court on Thursday, 28 July 2011.
He pleaded guilty to nine food hygiene offences including storing and cooking raw meat products while prohibited and failing to comply with a hygiene improvement notice issued by Ealing Council.
After receiving a complaint about glass being found in a samosa, Ealing Council began food hygiene investigation in April 2010.
Buckets used to store samosa ingredients were covered in slime and there was an over powering unpleasant smell.
They also uncovered a food conveyor belt with caked-on food and grease and numerous examples of poor hygiene and cleanliness across all the units.
After the visit the business volunteered to temporarily close to allow improvements to be made. Ealing Council issued a notice of suspension, prohibiting the business from storing or cooking any raw meat products.
Despite the suspension notice, at a follow-up visit in December, officers found a walk-in fridge labelled 'raw meat', containing approximately 10 kilos of raw minced lamb, together with cooked meat that had been prepared on the premises. The fridge also contained raw vegetables, presenting the potential for cross contamination.
Councillor Ranjit Dheer, cabinet member for Community Services and Safety, said: "It's totally unacceptable to produce food in these conditions and it could have caused a major food poisoning outbreak."
"It is reprehensible that someone would deliberately defy a suspension notice placed on a company to protect consumers."
Brar was fined £15,000 and ordered to pay £1,000 towards the council's prosecution costs, plus £15 victim surcharge.
---
If you have a local news story, share it with the rest of Southall, by using the contact form.