Events in and around Southall - London Borough of Ealing
International Women's Day
Date: Sat 24 Mar 2018
You are cordially invited to attend "International Women's Day"
Guest speaker - MP Seema Malhotra
women only event
Jashne Molood-e-Kaaba and Urs Gharib Nawaz
Date: Sat 24 Mar 2018
Islamic Event - Urdu and English
Jashne Molood-e-Kaaba (Hazrat Ali) and Urs Khawaja Gharib Nawaz
The Jungle Book
Date: Sun 25 Mar 2018
A brand new musical adaptation of family favourite, The Jungle Book by Immersion Theatre.
Southall Broadway Ward Forum meeting
Date: Mon 26 Mar 2018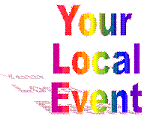 The chance to influence what happens on Southall Broadway ward. Get involved in local decisions.
---

For the archived local news visit the Southall Events Archive.
If you have a local event, kindly share it with the rest of Southall, by using the email.