Events in and around Southall - London Borough of Ealing
Ealing Jazz Festival
Start Date: Wed 23 Jul 2014
End Date: Sun 27 Jul 2014

Description:
Enjoy five days of fantastic music, with big band favourites, funky Latin tunes, jazz and funk fusion, bebop, hard bop, contemporary jazz and more.
Immortal Chi
Date: Thu 24 Jul 2014

Description:
Direct from China, and conceived by the team behind the renowned Shaolin Warriors, Immortal Chi is a brand-new spectacular fusion of jaw dropping Chinese Martial Arts, amazing multi-media images, fabulous costumes and original live music.
Dr Bike health check sessions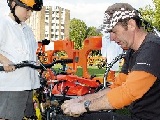 Date: Sat 26 Jul 2014

Description:
Free health check for your bike.
Learn how to check your bike for roadworthiness and get some cycling advice.
Alice in Wonderland
Date: Fri 01 Aug 2014

Description:
Gary Starr Productions returns to The Beck Theatre this August with their brand new production of Alice in Wonderland.
Garden Party
Date: Sun 03 Aug 2014

Description:
Elegance, style, luxury and relaxation are all synonymous with the quintessentially English tradition of afternoon tea – as are dainty sandwiches, cakes, homemade scones and lashings of cream.

For the archived local events, visit the Southall Events Archive.
If you have a local event, kindly share with the rest of Southall, by sending it to us via email.