Events in and around Southall - London Borough of Ealing
Islamic Event - Mehfil Milad-un-Nabi - Ladies only
Date: Sat 18 Nov 2017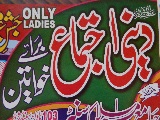 Islamic Event - English & Urdu - Mehfil - LADIES ONLY
Birthday celebration of the Prophet Muhammad (PBUH).
The Tiger Who Came To Tea
Date: Sun 19 Nov 2017
The doorbell rings just as Sophie and her mummy are sitting down to tea. Who could it possibly be? What they certainly don't expect to see at the door is a big, stripy tiger!
Islamic Event - Jaloos - Eid Milad-un-Nabi
Date: Sun 26 Nov 2017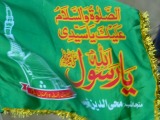 Islamic Event - Urdu - Jaloos
Birthday celebration of the prophet Muhammad (PBUH).
Robin Hood
Start Date: Wed 29 Nov 2017
End Date: Sun 03 Dec 2017
The awesomely awesome Robin Hood and his Merry Men are busy robbing the rich to give to the poor!
---

For the archived local news visit the Southall Events Archive.
If you have a local event, kindly share it with the rest of Southall, by using the email.