Events in and around Southall - London Borough of Ealing
Billy Smart's Circus
Start Date: Wed 22 Oct 2014
End Date: Sun 02 Nov 2014

Description:
The Billy Smart's Circus UK tour is brimming with a dazzling combination of acrobatics, comedy, music, juggling, and aerial feats brought to you by our amazing international artistes.
Dr Bike health check sessions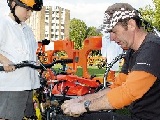 Date: Sat 25 Oct 2014

Description:
Free health check for your bike.
Learn how to check your bike for roadworthiness and get some cycling advice.
Southall Nagar Kirtan
Date: Sun 26 Oct 2014

Description:
The annual Southall Nagar Kirtan (procession) celebrating the Parkash Ustav (Birthday) of Guru Nanak.
Hellfire Comedy Club
Date: Wed 29 Oct 2014

Description:
Our comedy night returns with a brand-new look and a tasty new menu. Choose from flamin' burgers, hotdogs and nachos to accompany the cool beer and prepare to laugh the night away.

For the archived local events, visit the Southall Events Archive.
If you have a local event, kindly share with the rest of Southall, by sending it to us via email.