Southall News
Ealing Council unveils new cabinet
Wed 23 May 2018
The council's new cabinet was announced at the full council meeting on 22 May, the first following the local elections on 3 May 2018.
---
Ramadhan 2018 (1439 AH)
Wed 16 May 2018
Muslims throughout the world and Southall will be starting the month of Ramadhan (the month of fasting) on Thursday 17 May 2018.
---
Tesco fined £1.6 million following tragic incident in Greenford
Sun 13 May 2018
The supermarket chain Tesco has been hit with a £1.6 million fine for health and safety failures in its Tesco Metro store on Greenford Road.
---
Community meeting about street cleanliness
Mon 30 Apr 2018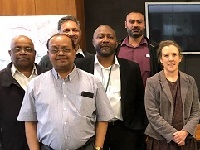 The Southall community Alliance organised a meeting about street cleanliness on Thursday 26 April 2018 in Southall Town Hall.
---
---
For the archived local news visit the Southall News Archive.
If you have a local news story, share it with the rest of Southall, by using the contact form.