Recognition for Weaver Rose Group of Companies
Mon 18 Apr 2011
The Mayor of Ealing borough has recognised two local professional businesses for their outstanding services to the community.
One company is Weaver Rose Chartered Certified Accountants & Registered Auditors and Business Advisors. This accountancy and taxation business based in London Ealing and Southall, has been providing "professional advice of the highest standard".
It has provided accountancy training and free assistance to members of the community and to accountancy students. Their services were described as an innovative example for all others.
The chartered accountancy firm is managed by Mr Sarfraz A Khan while the other recognised company was Weaver Rose Solicitors, which is managed by Ghazia Butt.
Friends, business associates and local councillors were invited to the award ceremony held at the Mayor's Parlour at Ealing Town Hall on Friday evening.
The event was opened by Venus TV presenter Roop who was surprised at seeing "so many important people at the same time" gathered for this generous man who has "done so much" e.g. offering free services for religious organisations, needy clients and students.
Other media people included Dr Avtar Lit (of Sunrise Radio) who presented a cheque for £5000 for the Mayor's charity. Tony Lit (his son) was also there.
The Mayor of Ealing has raised a record £43,000 for his 2 charities so far with only 6 weeks left for his term in office. That figure will reach £50,000 in the next few weeks as the generosity of Sarfraz Khan will make up any shortfall.
The Mayor of Ealing described Safraz Khan as a "wonderful human being" as he has devoted a lot of time and kindness.
If a person has one really good friend in his or her lifetime, he or she is really fortunate. For Mr. Kohli that person was Sarfraz Khan.
The "desire to help" his family, friends and community e.g. the help he gave his friend Mr Kohli "in the time of his greatest need" makes Sarfraz Khan a unique person.
Mr Kohli described him as a "great and respected man" and wished him "happiness and prosperity."
The Mayor of Waltham Forest, Councillor Masood said that "to be generous is not everyone's cup of tea", whether with time or money. The generous people are "god gifted people" such as Safraz Khan.
Ealing Southall MP Virendra Sharma, who has known Sarfraz for a long time, not only a successful business man but as a human being congratulated him for his services to society.
Council leader Julian Bell commented that when you look around you see the "who is who of Ealing and Southall", people who have contributed to the benefit of the borough.
Councillor Kauser praised Mr Khan's commitment to voluntary work. He mentioned how Mr Khan took time off from his business to deliver food and aid to the flood victims of Pakistan.
Councillor Verma, who is a friend of Mr Khan and Mr Kohli, described the time when Mr Kohli became critically ill. Mr Khan helped him and visited him daily.
He said that the Mayor "has chosen a wonderful person for this wonderful award."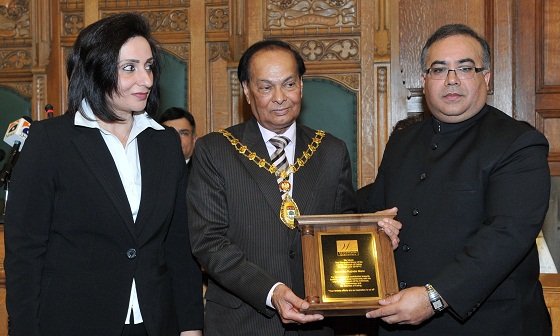 ---
If you have a local news story, share it with the rest of Southall, by using the contact form.