Local Election Hustings in Southall
Sat 07 Apr 2018
A local election hustings was organised by the Southall Community Alliance, working with Ealing Community Network, at the Dominion Centre in Southall on Thursday 5th April 2018.
Representatives from the Conservative, Green, Labour, Lib Dem and Renew parties agreed to be present. All speakers were given an opportunity to share their ideas for Ealing and answer questions from members of the public at the end.
Local Ealing charities and community groups have come together to produce a 10 point 'Voluntary Sector Manifesto' for the local elections in May. The Manifesto has been developed by Ealing Community Network which acts as a collective local 'voice for the voluntary sector'.
The Manifesto calls on the Council to work in partnership with local voluntary groups to tackle issues such as poverty, homelessness, loneliness and inequalities. In addition to this, there are other important local issues that can be raised during the discussion.
The panels of speakers were:
Cllr Julian Bell – Labour
Cllr Gregory Stafford - Conservatives
Cllr Gary Malcolm - Lib Dems
Jeremy Parker - Green Party
Peter Ward - Renew
It was disappointing that not a lot of residents turned up. But that was due to residents having little faith in their elected officials, especially in Southall.
What was more disappointing was that the local councillors could not be bothered to show their faces either. The residents of Southall have become used to that. The only time the local councillors appear is at election time, asking for residents to vote for them.
Isn't it election time yet?
Don't election husting happen at election time?
Some residents were concerned with the asset stripping of Southall by Ealing Council.
Tony, a resident who raised the issue of the sale of Southall Town Hall, was disappointed with the party politics of blaming the other party.
The Conservatives moved maternity services from Ealing Hospital because mothers did not want to give birth at Ealing Hospital. It was well known to be understaffed leading to overworked workers resulting in poor service. The Conservative solution was to move the services elsewhere rather solve the real problem.
Amy, a resident, wondered if any of the panel would bother coming back to check if any of the problems raised by the residents had been solved or not. Cllr Stafford promised to "run all the way from the Vale, along Uxbridge Road, in his underpants" if he was elected and he failed to do what he said.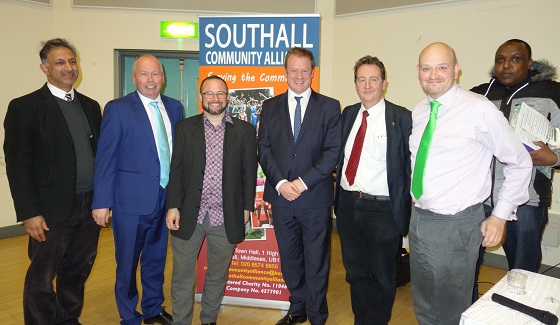 ---
If you have a local news story, share it with the rest of Southall, by using the contact form.