New community toilets in Southall?
Sat 31 Mar 2018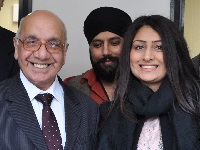 Herbert Road Car Park will be the next part of Southall to have the accessible toilets installed to serve residents and visitors.
Ealing Council recently awarded a telecommunications business a lease and as part of that the tenants will take on the management of the public WC facility next to it.
Councillor Kamaljit Nagpal tweeted, On 23 March 2018, that "Local businesses, shoppers and residents are delighted that Ealing Council have delivered these new toilets for Southall".
They were delighted with the official opening of Dane Road Public Toilets. They are closed now.
Toilets outside Southall Town Hall were closed decades ago.
Toilets outside Southall Park have recently closed.
Toilets outside Manor House are closed now.
Will these remain open for long?
Ooops.
These toilets are outside the Herbert Road car park.
They are replacing the toilets inside the car park.
So, residents are NOT getting any NEW toilets after all.
But it is still worth the MP for Ealing Southall, the Leader of Ealing Council and the Deputy Leader of Ealing Council to appear for the official opening.
The toilets are NOT open either. We are informed that the official opening was booked in advance. The toilets cannot open until the business responsible for it ready to open.
The toilets are situated on Punjab Lane behind Southall Broadway and will open in the coming weeks.
---
If you have a local news story, share it with the rest of Southall, by using the contact form.