Southall Public Spaces Protection Order
Thu 01 Mar 2018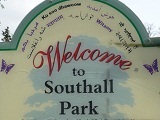 The Safer Communities team at Ealing Council is introducing two Public Spaces Protection Orders (PSPOs) in Southall. They are being introduced on 12 March 2018, and will last 3 years until 12 March 2021.
They are being introduced to try and reduce anti-social behaviour in Southall. One is being introduced in Southall Town Centre, and the second is being introduced in five of Southall's parks and one of Southall's cemeteries.
Maps of these areas can be found on the following pages. Residents and businesses in Southall feel that anti-social behaviour is negatively affecting their quality of life. We want to try and make Southall safer for everyone, and the PSPOs will be part of this.
PSPOs are a new measure that is available to Councils, so that the Council can set conditions for how people must behave in a certain geographical area. These are the 'conditions', and they either prohibit or require certain behaviour. Most of the conditions of the Southall PSPOs are the same, but there are 3 which are slightly different. This is because the town centre and the parks are affected by slightly different types of anti-social behaviour.
In both PSPO areas, a person must not:
Drink alcohol and engage in anti-social behaviour,
Loiter in groups and engage in anti-social behaviour,
Urinate and/or defecate in public spaces,
Spit anything onto the ground (phlegm, mucus, snot, paan, etc.),
Litter,
Use illegal drugs or psychoactive substances in public spaces.
As well as these, the PSPOs address the following behaviours in only one of the areas:
In Southall Town Centre, you must not obstruct access to business premises during their opening hours,
In the selected parks and cemetery in Southall, you must not let your dog foul (poo) without picking it up and disposing of it property; or display irresponsible dog ownership (e.g. let your dog destroy Council property, or unreasonably annoy other people).
If someone is caught doing any of these things, they will be given a Fixed Penalty Notice (FPN) of £100. They will have 14 days to pay this FPN. If they do not pay this FPN, then Ealing Council may take legal action against them. If they are found guilty, they could get a fine of up to £1000, and a criminal record.
What if I don't agree with the PSPOs?
Anyone who is an "interested person" can appeal a PSPO. An "interested person" is defined as someone who lives in, works in, or regularly visits the PSPO area. This means that only people who are directly affected by the PSPO can challenge it.
To protest the PSPO, an application must be made to the High Court within six weeks of the beginning of the PSPO 'go-live' date.
Contact Safer Communities
If you have any questions about anything on this handout, about the PSPOs, or about anti-social behaviour in Southall or the Borough, you can contact the Safer Communities team on our duty line. The number is 0208 825 5994. This line is open Monday to Friday, from 9am till 5pm. Alternatively, you can contact us via email at safercommunities@ealing.gov.uk.
---
If you have a local news story, share it with the rest of Southall, by using the contact form.