Ealing Save Our NHS meeting
Thu 15 Feb 2018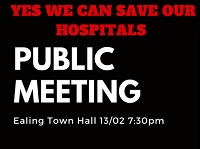 There was anger and cheers at the Ealing Save Our NHS public meeting on Tuesday 13 February 2018.
It was standing room only in Ealing Town Hall on Tuesday with 200 people attending a public meeting organised by Ealing Save Our NHS.
The Meeting was chaired by Eve Turner, Secretary of Ealing Save Our NHS. She thanked the local council for defying the Government over hospital cuts.
The enthusiastic audience clapped and cheered the four informative and inspiring speakers. These were frontline doctors and passionate defenders of the NHS.
John Lister, leading national NHS Campaigner & Secretary of Keep Our NHS Public. Private management consultants were being paid millions of pounds to write reports that didn't stand up. Tens of millions of our NHS money was paid to finance companies for PFI hospitals – huge interest payments that were totally unnecessary.
Dr Gurjinder Sandhu, West London Hospital Consultant. More ambulances are being diverted to Ealing A&E than any other in London, but staff are told Ealing A&E can be closed under their cuts plans.
Dr Aislinn Macklin- Doherty, Junior Doctor & NHS Activist. The extra pressures on hospital staff are not bearable for long.
Rupa Huq MP for Ealing Central & Acton. She support the campaign to save Ealing Hospital and promised that her party would put a moratorium on all NHS cuts.
Many people signed up to join the Campaign to stop the cuts and downgrading of Ealing Hospital and the privatisation of our vital health services.
At the end of the meeting dozens of people joined together for a photoshoot in support of migrant NHS workers. They held up posters saying "We're PROUD of our Migrant NHS workers".
More information and regular Campaign updates are available on
www.ealingsaveournhs.org.uk
.
---
If you have a local news story, share it with the rest of Southall, by using the contact form.