Southall Anti-Racist Plaque Ceremony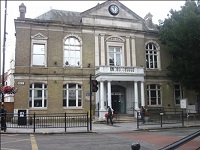 Date: Tue 13 Jul 2021

Time: 5 pm
Description:
The Southall Community Alliance, The Monitoring Group & Ealing Trades Union Council will be holding an Anti-Racist Plaque Ceremony at Southall Town Hall.
An important anti-racist event in Southall – the re-installing of three commemorative plaques outside Southall Town Hall on Tuesday 13 July 2021.
The first two plaques are to honour the memories of Gurdip Singh Chaggar, a young Asian teenager killed in a race attack in June 1976 and Blair Peach, a school teacher killed by the SPG officers in April 1979.
---
The third plaque is a tribute to Southall's prominent reggae band, Misty 'n Roots, who also suffered from state violence and injustice during the April 1979 events.
The historic events of late 1970's are not only critical to local and national history, its lessons are relevant to current struggles against racism today.
As you may be aware the plaques were initially installed outside Southall Town Hall in April 2019 but, unfortunately, these were all stolen. The original plan was to reinstall the plaques as soon as possible but government restrictions due to COVID-19 delayed our plans.
Although the plaque ceremony will start at 5pm, other events, including with local school children are planned from early afternoon.
Further details of our guest speakers – currently led by John McDonnell MP, Virendra Sharma MP, Claudia Webbe MP, Jatinder Chaggar, Celia Stubbs, Clarence Baker, Eve Turner, Cllr Julian Bell, Cllr Peter Mason, Ursula James, Ahmed Mohamed, Harsev Bains, Dalawar Chaudhry & Dr Kulwant Singh – will be published soon and will be available on our websites
Location:
Southall Town Hall,
1 High Street,
Southall,
UB1 3HA

If you have a local event, kindly share with the rest of Southall, by sending it to us via email.