Jim Davidson - Plus Support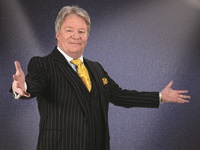 Date: Sun 20 Jan 2019

Time: 7:30pm
Description:
The people's favourite comedian takes to 'The Road Again' with a brand-new show which promises to be the antidote to this 'PC' world we now live in.
Guaranteed to be outrageous and as truthful as ever.
'He speaks with rare honesty.'
website: Beck Theatre
Location:
The Beck Theatre,
Grange Road,
Hayes,
UB3 2UE

If you have a local event, kindly share with the rest of Southall, by sending it to us via email.