Cinderella – a traditional family-friendly pantomime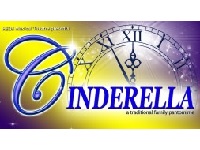 Start Date: Sat 29 Dec 2018

End Date: Sun 30 Dec 2018

Time: 2.00 pm & 6.30 pm
Description:
HEOS Musical Theatre present
Cinderella
A traditional family-friendly pantomime
This traditional family-friendly pantomime is packed with excitement, slapstick, romance, a ghost scene, stunning costumes, song and dance. All we need is participation from you, the audience.
Cinderella is treated like a servant by her stepmother and two stepsisters, but a chance meeting with Prince Charming leads to an invitation to a ball. Forbidden to attend by her stepmother, Cinderella's Fairy Godmother uses magic to allow her to meet the Prince again and win his heart. But the path of true love never runs smooth and Cinderella is forced to flee when the magic runs out at midnight.
With only a sparkling slipper to identify his love by, will Prince Charming find his mysterious 'Princess Sparkle' and live happily ever after?
Ticketss:
Early Bird until 17th Nov: £11.50 / £7.50
Rear Stalls £8.00
From 18th Nov: £13.50 / £9.00
Rear Stalls £8.00
phone 07758 841523
website:
thelittleboxoffice.com/heos
Location:
Greenford Hall,
Ruislip Road,
Greenford,
UB6 9QN

If you have a local event, kindly share with the rest of Southall, by sending it to us via email.