A Plastic Ocean - Screening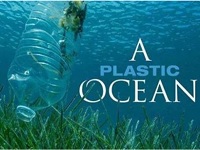 Date: Thu 06 Dec 2018

Time: 7:15 pm
Description:
Southall Transition and Ealing Friends of the Earth present: 'A Plastic Ocean' (100 minutes, 2017).
'A Plastic Ocean' begins when journalist Craig Leeson, searching for the elusive blue whale, discovers plastic waste in what should be pristine ocean. In this adventure documentary, Craig teams up with free diver Tanya Streeter and an international team of scientists and researchers.
They travel to twenty locations around the world over the next four years to explore the fragile state of our oceans, uncovering alarming truths about plastic pollution and exploring potential solutions.
Refreshments will be available, however to foster community spirit, attendees are also invited to bring food and drink to share.
website:
southalltransition.org
Location:
St John's Parish Centre,
Havelock Rd,
Southall,
UB2 4DH

If you have a local event, kindly share with the rest of Southall, by sending it to us via email.