Islamic Event - Eid Milad un Nabi - Ladies only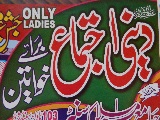 Date: Sat 10 Nov 2018

Time: 7.30 pm
Description:
Islamic Event for Ladies only - Eid Milad un Nabi - Birthday of the Prophet Muhammad (PBUH).
The guest urdu speaker are:
Baji Rizwana Latif - religious scholar - Urdu speech
Baji Halima Bibi - Speaker - English speech
Baji Almas Saleem - Naat Khawan
Come to seek knowledge and show your respect and your love for the Holy Prophet (SAW).
Ladies only event
Website:
Jamia Masjid - Southall
Location:
Jamia Masjid Islamic Centre,
103-105 Townsend Road,
Southall,
Middlesex,
UB1 1HE

If you have a local event, kindly share with the rest of Southall, by sending it to us via email.