The battles to save public services and Southall Town Hall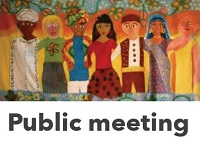 Date: Tue 30 Oct 2018

Time: 7:30pm - 9:30pm
Description:
Public meeting AUSTERITY & EQUALITY:
The battles to save public services and Southall Town Hall
The Save Southall Town Hall Campaign has arranged a public meeting on 30th October 2018 at the Dominion Centre in Southall, starting at 7.30 pm.
We have some excellent speakers attending and I hope you may be able to join us and find out more about the campaign and how we can work together to preserve our crucial community assets.
Confirmed Speakers:
Naz Shah MP (Member of Parliament for Bradford West & Shadow Minister for Women & Equalities)
Cllr. Claudia Webbe (National Executive Member, Labour Party & Islington Councillor responsible for Environment and Transport)
Oliver New (Ealing Trades Union Council)
Paul Heron & Helen Mowatt (solicitors, Lambeth Law Centre Public Interest Unit)
Suresh Grover (Chairperson of Save Southall town hall & Director of The Monitoring Group)
Please note – other local speakers will be announced on the day and that the meeting will be chaired by Janpal Basran of Southall Community Alliance
Location:
Dominion Centre,
112 The Green,
Southall,
UB2 4BQ

If you have a local event, kindly share with the rest of Southall, by sending it to us via email.