Islamic Event - Urs - Data Ganj Bakhsh Hajvery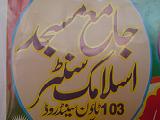 Date: Sat 27 Oct 2018

Time: 7 pm
Description:
Islamic Event - Urdu/English
Renowned scholars of Islam, Hazrat Allama Molana Ghulam Rabbani Afghani will speak about the lives of Hazrat Data Ganj Bakhsh Hajvery.
Dr Rashid Zia Naeemi will deliver his speech in English on one of the following:
Hazrat Mujaddad Alif Sani
Peer Sayed Mehr Ali Shah Golravi
Peer Sayed Shams-ul-Udin Siyalvi
Hazrat Imam Ahmad Raza Khan Brailvi
Hazrat Bahawo-ul-Udin Zakriya Multani
Naat khawans will be present.

Muslim brothers and sisters are cordially invited to attend.
A separate area will be provided for ladies
Food will be provided at end of programme.

Website: Jamia Masjid - Southall
Location:
Jamia Masjid Islamic Centre,
103-105 Townsend Road,
Southall,
Middlesex,
UB1 1HE

If you have a local event, kindly share with the rest of Southall, by sending it to us via email.