Diabetes Health Checks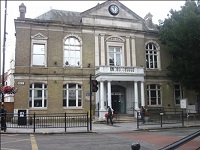 Date: Tue 12 Jun 2018

Time: 11 am - 1 pm
Description:
As part of National Diabetes Week, Southall Community Alliance is working with the Diabetes Integrated Care Ealing team to arrange two health check sessions in Southall.
These sessions will on Tuesday 12th June at Southall Town Hall (11 am - 1 pm) and Wednesday 13th June at Sri Guru Singh Sabha, Park Ave, Southall.
Trained and experienced NHS staff will be present at both sessions and can check for diabetes risks and give qualified advice.
These sessions are free so please encourage people to attend and get checked.
Diabetes is a preventable health condition and we are working to raise awareness of risk factors within the community.
Location:
Southall Town Hall,
1 High Street,
Southall,
UB1 3HA

If you have a local event, kindly share with the rest of Southall, by sending it to us via email.