Superslam Wrestling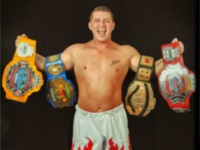 Date: Wed 14 Feb 2018

Time: 7:30pm
Description:
Wrestling legend
Gangrel
continues his 2018 British tour by going on the tag team trail in a big All Star programme at the Beck Theatre.
The notorious Vampire Warrior will be partnered by Britain's metal masked monster, Thunder, in a clash against Devon-based star Oliver Grey, recently crowned as the new Superslam Belt holder, alongside South London-born heavyweight favourite James Mason.
Gangrel remains a top box office draw around the world and lines-up alongside the equally well-travelled Thunder for what is sure to be a contest fought at terrific pace.
website: Beck Theatre
Location:
The Beck Theatre,
Grange Road,
Hayes,
UB3 2UE

If you have a local event, kindly share with the rest of Southall, by sending it to us via email.